Instruktør: Chris Buck, Jennifer Lee
Medvirkende:  Kristen Bell, Idina Menzel, Jonathan Groff
Genre: Animation, Eventyr, Familiefilm
Spilletid: 1t og 42min
Resume
Inspireret af H.C. Andersens "Snedronningen" kommer "Frost". I Arendahl bor de to prinsesser, Anne og Elsa, sammen med deres forældre. Elsa er ikke en helt almindelig pige, hun er nemlig i besiddelse af mystiske sne kræfter. Da pigerne en dag mister deres forældre i en forfærdelig ulykke må de klarer dem selv. Elsa der har svært ved at styre sin magi, låser sig inde og kommer først ud, da hun en dag skal krones som dronning. Hun efterlader Anna, ensom og fortvivlet. Men da Elsa skal krones, kommer hun ved et uheld til at kaste en fortryllelse over hele landet og skabe en evig vinter. Bange for hvad hun ellers kan gøre, flygter hun afsted. Anna nægter at lade hende i stikken og beslutter sig derfor for at tage ud på en lang rejse for at finde sin søster og hæve forbandelsen.
Anmeldelse
"Frost" er betagende smuk animations film. Den formår som noget nyt af en børnefilm at gøre, at være uforudsigelig og suspence fuld fra start til slut. Uden at afsløre filmen kan jeg sige at selv i filmens sidste minutter, er det svært at gennemse hvordan filmen slutter. I hovedrollerne har vi handlestærke og moderne kvinder og i birollerne morsomme karakterer fyldt med følelser. Sangene er godt skrevet og hænger ved fra første gang man hører dem. MEN der er dog ALT for mange sange til min smag. Hvis Disney skulle ændre noget, for at forstærke denne film yderligere, ville dette være mit kritiske punkt. Ellers er det en enorm smuk, original og fortryllende animationsfilm.
Konkurrence – Sponsoreret af Movieview 
Deltag i konkurrencen om "Frozen 1+2" på Blu-ray. Du deltager ved at besvare spørgsmålet på vores facebook side: https://www.facebook.com/filmbucketlist
Spørgsmål: Hvad hedder de to søstre i "Frozen"?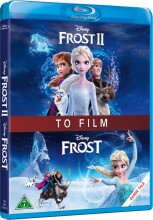 Billede kilde: © GUCCA
Konkurrencen slutter d.21/12